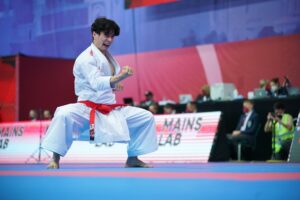 Mit dem K1 Premier League in Moskau endete die Turnierserie 2021 der höchsten Liga im Weltkarate. Nach Istanbul, Lissabon und Kairo war die Russische Föderation, bedingt durch den Covid-19 bedingten Ausfall des K1 Rabat, letzter Gastgeber. Startberechtigt waren Karateka ab 16 Jahren (Kata) und Kumite ab 18 Jahren. Limitiert sind die Kategorien auf 64 Teilnehmende.
Mit sieben Athletinnen und einem Athleten war die Schweiz am Start. Mit dem 9. Kata-Rang (Viertbester Europäer) holte Yuki Ujihara das beste Schweizer Resultat. Bilanz 2021: 11-er Istanbul, 2-er Lissabon, 5-er Kairo. Im Kumite, +68 kg, errang Fabienne Kaufmann als Einzige zwei Einzelsiege. Am 11. Oktober 2021 entscheidet der Selektionsausschuss (Vorsitz: Marc Keller) über die WM Dubai Kumite-Selektionen. Bereits selektioniert sind Melinda Mark und Yuki Ujihara.
Als Coachs waren in Moskau Nationaltrainer Franco Pisino und Raul Cuerva Mora (Certificate Kumite Coach) im Einsatz. Insgesamt waren 49 Nationen (Frauen: 204= 52%, Männer: 187 = 48%) präsent. Die grössten Delegationen stellten Russland (55, plus 30 Schiedsrichter), Italien (42) und Slowakei (28). Russland stellte mit seinen Nachbarländern 116 Karatekas.
Herkunft Schiedsrichter: Eurasien (30), Europa 18, Asien (15), Afrika (6), Südamerika (2), Nordamerika (1).
Schweizer Resultate
Frauen (7)
Kata (35)
Mark Melinda, WKF Ranking 75, Rang 25, 2 Einzelsiege
1-23.76, D Onofrio Terryana, Kururunfa, Italien, World Ranking 10, (16.66-7.08), Rang 5
2-23.54, Ono Maho, Anan, Japan, 15, (16.52-7.02), Bronze
3-23.44, Casale Carola, Nipaipo, Italien, 8, (16.24-7.20), Rang 9
4-23.20, Wieninger Kristin, Papuren, 51, Österreich (16.24-6.96), Rang 15
5-22.58, Roy Rubio Raquel, Anan, Spanien, 21, (15.68-6.90), Rang 17
6-21.94, Vega Letamendi, Papuren, 93, Spanien (15.40-6.54), Rang 21
7-21.74, Mark Melinda, Kururunfa, 75, Schweiz, (15.26-6.48), Rang 25
8-21.54, Sobaleva Stafaniya, Paiku, 120, Weissrussland (15.12-6.42), Rang 29
9-21.46, Orbe Christina, Gojushiho Sho, 154, Ecuador, (14.98-6.48), Rang 33
Kommentar WKF:
In an outstanding showcase of dominance, Sandra Sanchez of Spain won the title of Female Kata to become one of the stars of the tournament. The Olympic champion continues demonstrating an impressive level. In her first appearance after the historic gold at the Olympic Games, the Kata queen controlled the competition in Moscow.  The current European, World, and Olympic title-holder defeated Sakura Kokumai of the United States in the final with a score of 28.14 to 25.8. This victory helped Sanchez to maintain the Grand Winner crown one more year.
Sandra Sanchez said:
"I am very happy because I am able to finish the season of Karate 1-Premier League with a victory. It reinforces my expectations ahead of the World Championships and it gives me strength to continue fighting for my goal of winning the triple crown of World, European and Olympic titles in the same year."
"In a way, I want to continue enjoying the beautiful things that the Olympics are bringing me. But the past is in the past, and I want to keep on working to achieve new challenges and to beat my own marks."
Kumite
-55 kg (23)
Michel Melinda, 60
1:3 Sharykhina Irina, Weissrussland, 20
Schärer Maya, 19
2:3 Brunori Veronica, Italien, 36 (Lissabon: 0:1)
Medaillen:
1) Chernysheva Anna (Russland), 2) Zakharova Sabina (Kasachstan), 3) Warling Jennifer (Luxembourg), 3) Fernandez Osorio Carlota (Spanien)
WKF:
The home crowd in Moscow celebrated the fantastic performance of one of the most promising Russian karatekas: Anna Chernysheva.
The current European champion who also qualified to represent the sport at the Olympics produced one of the most impressive demonstrations of offensive Karate of the day as she defeated Sabina Zakharova of Kazakhstan 5-0 in Female Kumite -55kg.
Chernysheva starred in one of the Top moments of the day as she signed off an outstanding "Ippon" or three-point technique by "Ura Mawashi Geri" kick with the bout at 0.09 seconds to go.
Anna Chernysheva said:
"This tournament made a whole difference to me because we were able to compete in front of so many people for the first time after so long. I could feel their support helping me to succeed today."
"It is nice to hear that people think that I am Russian Karate's most promising athlete. I feel a lot of responsibility for this and I just hope that I can return this trust with good performances on the tatami."
– 68 kg (30)
Quirici Elena, 4 (Foto)
1:2 Smiljan Kiti, Slowenien, 53 (Lissabon 0:0)
Kommentar Facebook (Raul Cuerva Mora):
Not our best day, but also not the last. We don't come out of the competition with the best result today, but it's just a step more. We continue our preparation, without lose the north. This make us stronger and more dangerous.
Medaillen:
1) Semeraro Silvia (Italien), 2) Abdelaziz Feryal (Ägypten), 3) Isaeva Victoria (Russland), 3) Zaretska Irina (Azerbaidschan)
+68 kg (36)
Ouchene Ramona, 16
0:1 Zaytseva Ivanna, Russland, 20, 7. Schlussrang
Kadoic Mia, 123
0:0 Grimm Charlotte, Deutschland, 31, 7. Schlussrang
Kaufmann Fabienne, 28
4:3 Pap Dorottya, Ungarn, 82
3:0 Bienvenu Samantha, 3:0
2:2 Helmy Habiba, 2:2
Medaillen:
1) Berultseva Sofya (Kasachstan), 2) Kovaleva Vera (Russland), 3) Abouismail Sohila (Ägypten), 3) Okila Menna Shaaban (Ägypten)
WKF:
The highlight bout of the day had Olympian Sofya Berultseva of Kazakhstan as the big star. The final of Female Kumite +68kg was a roller-coaster of emotions as Berultseva and local idol Vera Kovaleva engaged in a fantastic exchange of offensive karate actions.
Kovaleva had the victory on her hands after completing a magnificent "Ippon" by "Mawashi Geri" kick. However, Olympic Games bronze medallist Berultseva produced a sensational comeback and registered a dramatic "Ippon" and a "Wazari" to end up winning the title 9-5.
Männer (1)
Kata (33
Ujihara Yuki, Rang 9, 7 Einzelsiege
1-25.6 Ikeda Ryusei, Ohan, Japan, (17.92-7.68)
2-25.2 Iodice Alessandro, Kanku Sho, Italien, (17.64 – 7.56), Rang 7
3-25.0 Galan Lopez Sergio, Ohan Dai, Spanien, (17.50-7.50), Rang 11
4-24.68 Ujihara Yuki, Schweiz, Ohan, (17.36-7.32), Rang 9
5-23.54 Szolar Pavol, Anan Dai, Slowakei, (16.52-7.02), Rang 17
6-23.46 Rzaev Mehman, Gojushiho Sho, Russland, (16.38-7.08), Rang 21
7-22.8 Hussain Mohammad, Sansai, Kuwait, (15.96-6.84), Rang 25
8-22.28 Namazov Emin, Gojushiho Sho, Azerbaidschan, (15.68-6.60), Rang 29
1-25.74 Nishiyama Kakeru, Anan Dai, Japan, (18.06-7.68), Goldmedaille
2-24.98 Torres Gutierrez Ariel, Ohan Dai, USA, (17.36-7.26), Rang 5
3-24.88 Ikeda Ryusei, Anan Dai, Japan, (17.50-7.38), Bronze
4-24.48 Iodice Alessandro, Unsu, Italien, (17.22-7.26), Rang 7
5-24.30 Ujihara Yuki, Ohan Dai, Schweiz, (17.22-7.08), Rang 9
6-24.28 Galan Lopez Sergio, Anan Dai, Spanien, (17.08-7.20), Rang 11
7-24.14 Gallo Gianluca, Gojushiho Sho, Italien, (16.94-7.20), Rang 13
8-23.5 Elhakimi Adnane, Suparinpei, Marokko, (16.66-6.84), Rang 15
Medaillen/Rangliste:
1) Nishiyama Kakeru, Japan
2) Abe Sakichi, Japan
3) Ikeda Ryusei, Japan
3) Quintero Capdevila Damian Hugo, Spanien
5) Ayato Kai, Japan
5) Torres Gutierrez Ariel, USA
7) Iodice Alessandro, Italien
7) Heydarov Roman, Azerbaidschan
9) Ujihara Yuki, Schweiz
9) Busato Mattia, Italien
WKF:
In Male Kata, the All-Japan final went to Kakeru Nishiyama who beat team-mate Sakichi Abe by 26.92 to 26.46. It is the first Karate 1-Premier League gold for Nishiyama who had the crown at the 2019 Karate 1-Series A Istanbul as his best result. Foto: Team Schweiz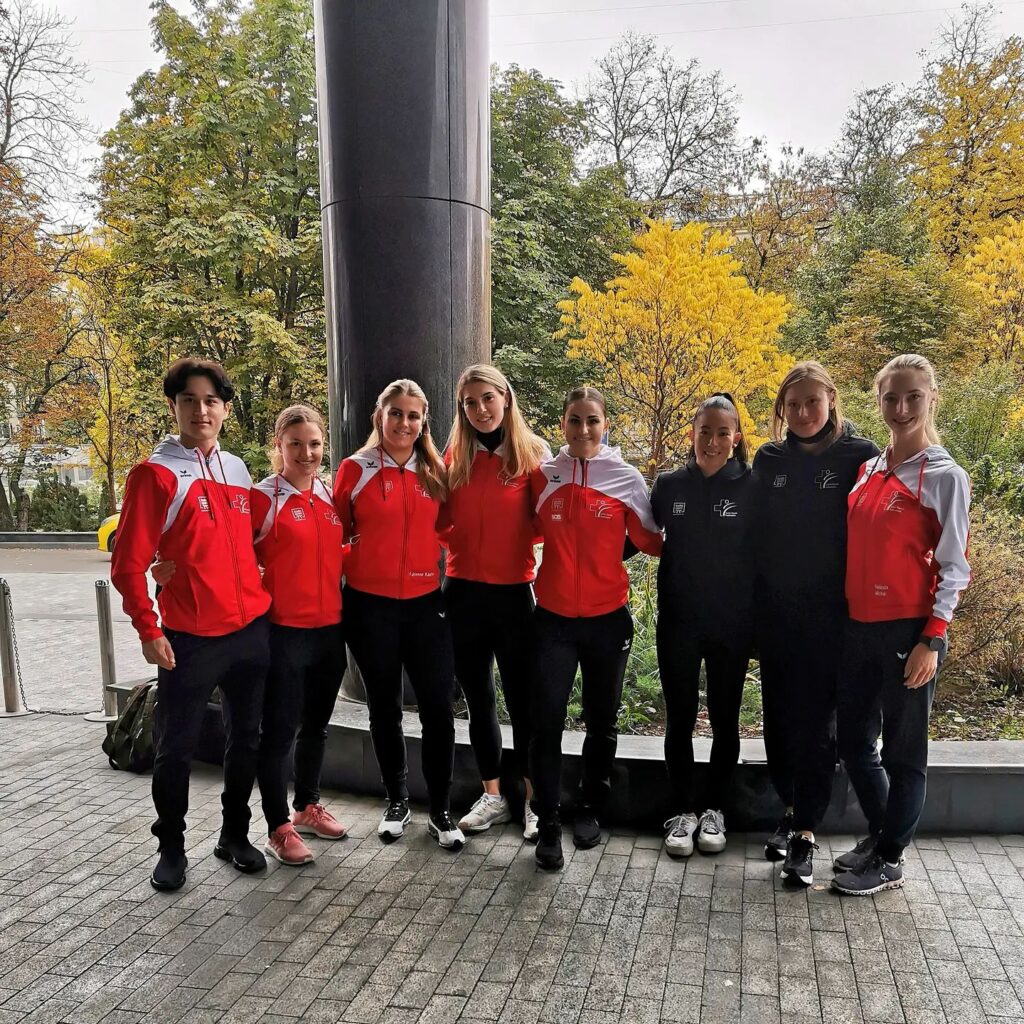 Karate-1 Premier League Swiss Top-Ten Kumite seit 2012 nach Moskau 2021
Einzelsiege
1) Elena Quirici, 96
2) Noémie Kornfeld (2012-2021), 49
3) Ramona Ouchene, 45
4) Fanny Clavien (2012-2016), 44
5) Maya Schärer, 29
6) Noah Pisino, 26
7) Melinda Mark, 23
8) Marco Luca, 22
9) Murat Sahin / Kaufmann Fabienne, 18+2 = 20
Teilnahmen
1) Ouchene Ramona, 42
2) Noémie Kornfeld / Quirici Elena, je 41
4) Melinda Mark, 39
5) Fabienne Kaufmann, 29
6) Melinda Michel, 28
7) Maya Schärer, 26
8) Nina Radjenovic, 23
9) Murat Sahin, 22
10) Demian Seiler, Luca Rohner, je 20
Medaillenspiegel
1) Fanny Clavien, 4x Gold, 3x Bronze
2) Elena Quirici, 3x Gold, 7x Silber, 4x Bronze
3) Kujtim Bajrami / Ujihara Yuki, 1x Silber
5) Marilena Rubini Volante (2011) / Jessica Cargill / Jana Gfeller (2011) / Noémie Kornfeld / Ramona Brüderlin, Maya Schärer, je 1x Bronze