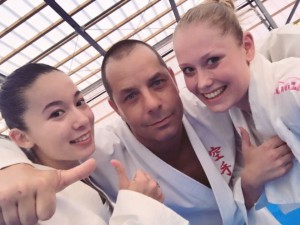 8th WKF Youth Training Camp, Umag, Istrien/Kroatien, 29. Juni bis 5. Juli 2015. Mehrere Schweizer Karatekas nahmen auch wieder dieses Jahr am renommierten WKF-Nachwuchscamp teil.
Training Camp Director: Esteban Pérez. Instruktoren: Hoang Ngan Nguyen (Kata World Champion), Luca Valdesi (Kata World- and European Champion), Predrag Stojadinov (Kumite, World and European Champion), Davide Benetello (Kumite, World and European Champion).
Foto aus Facebook: Maya Schärer (Karate Do Brugg), Davide Benetello und Ramona Brüderlin (Budo Sport Center Liestal).
WKF IS A RECOGNISED PARALYMPIC SPORT
On 12th June, 2015 the WKF could celebrate for a great success: the International Paralympic Committee (IPC) Governing Board accepted the WKF as the 30th sport discipline within the Paralympic Family.
The journey began 8 years ago in Bavaria (Germany) at the occasion of the first "Bavarian Open for Persons with Disabilities". The by then President of the German Olympic Committee (DOSB) and currently IOC President Thomas Bach attended with enthusiasm the event accompanied by WKF President Antonio Espinós. Since then, the WKF has promoted this area and implemented with the former Chairman for Persons with Disabilities, Wolfgang Weigert, the first demonstration competition at the 2012 World Championships in Paris. This inaugural event was a success and after that, the first World Championships for Persons with Disabilities followed, integrated in the 2014 World Senior Championships in Bremen. This first World Championships were attended by a great number of national and international honourable guests, such as the Special Advisor on Sport for Development and Peace, Willi Lemke, which also highlighted the great performance of the WKF in this area. On this basis, the WKF could also prepare an excellent application to the IPC Governing Board.
At the IPC Session which will be held on 14th and 15th November 2015 in Mexico City, the recognition of WKF will be officially ratified and hereafter we will aim at joining as soon as possible the Paralympic Programme. From this moment, the WKF can call itself also a Paralympic Sport. Foto: Franck Duboisse, Kata Weltmeister Rohlstuhl Bremen 2014.
Neue Mitglieder der Nationalen Coachkommission NCK sind Andrea-Brunner Wüest und Barbara Seiler. Die NCK steht unter der Leitung von Giuseppe Puglisi. Weitere Mitglieder sind Hakki Güldür und Piero Lüthold.
Mangels Nachfrage wurden vom Zentralvorstand die Team-Kumite Schweizermeisterschaften ersatzlos gestrichen.
Stil-Dangrade: Für die Aufschaltung dieser Dangrade sind ab sofort die Landesverbände zuständig. Im Grundsatz gilt, dass eine Graduierung höher als der SKF-homologierte Grad publiziert wird.